As promised, I am adding more pictures of my latest obsession: the pea coat for Elodie. If you don't know what a pea coat is, think
P
addington Bear
. I've cast it on in this beautiful worsted weight that I found at my LYS in a really pretty purple/blue colour. Observe: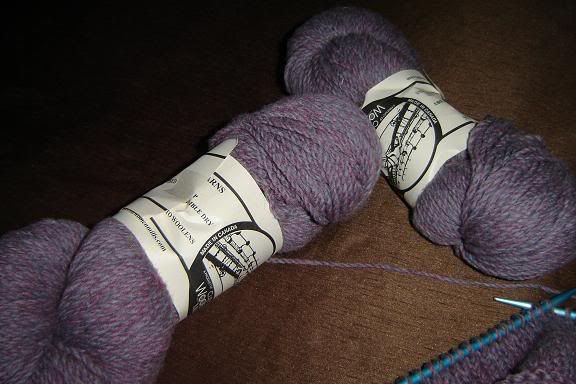 When it's all said and done, I'm going to felt the thing, which is why it looks so gigantic right now. I'm making it in a 3 so that it will be about a 2 when it's done. The gauge swatch felted really nice (and I forgot to take a picture, of course) but I think I'm going to have to tweak the pattern a bit. See, it calls for DPNs (double-pointed needles) to finish the shoulders...and I've never used them. Maybe I'll make some adjustments (scary thought). If all else fails, blocking fixes the most glaring of "improvements"...
Work on the blankie (surprisingly) is continuing apace. I think this is the longest I've worked on a piece consecutively. Please ignore the pet hair on the couch. My cat thinks it's her house.
I have a real treat for everybody tomorrow. In fact, I've already taken pictures. However, for now I'll leave you with two words: Red Laceweight. Try to contain the excitement.