Pardon the le crap pictures, but I'm done clue one of my Spring Shawl Surprise. I couldn't find our good camera, so I had to use our not so good camera.
I'm beading this shawl as I go along with the crochet method. It's so pretty. I was originally worried about it, but I think it'll be fine.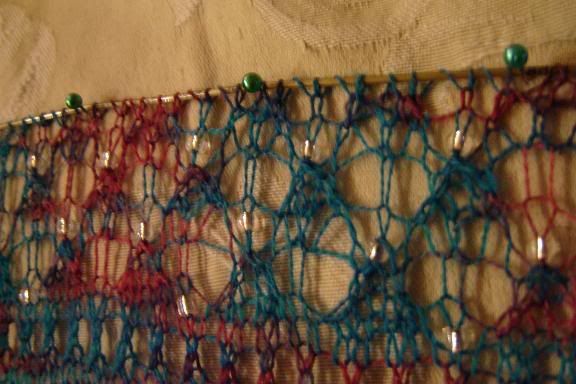 Sign-ups are now closed, but I do want to give kudos to
lul,
who is running the Spring Shawl Surprise. Definately a beautiful pattern so far. I have the second clue on the couch, and I'm taking Thursday off work to do nothing but knit. I've been working really hard this week, and by the end of today, I'll have met my weekly goals. *happy dance*
Carsten, my baby brother, and I are going to go on a little road trip this weekend to visit our grandparents and go to a bachelor party and baby shower. Should be exciting. I plan on knitting the entire 8 hour drive. Baby socks? Oh, yes. I knits them.