Here is the Egeblad blanket in all its finished glory:
This blanket shouldn't have taken as long as it did. There was, do remember, a move in the middle of it, so things were rather hectic. The blanket turned out beautifully, though, and I think I may have to get one on the needles for myself the next time I decide to produce life. I love it.
The parents to be loved it, too.
There was a copious amount of warning them to NOT put it in the wash machine lest it "felt like a Mo-fo." There was a rather annoying point in the whole baby shower thing when some random person whom I've never met decided to start lecturing me about everything to do with our daughter. First it was that we wouldn't let Elodie hold her own cupcake while she was eating it because she's a rather messy eater and we only had one change of clothes. Elodie was bawling, and the woman kept saying, oh, come on. Say, Please Daddy? Please?
Then it was her giving our daughter a donut and telling her, "Don't tell Daddy." The final straw was her lecturing me that I'd best "get pregnant sooner rather than later because you don't want a big gap between them." Actually, yes, I do want a big gap between them.
Why do people do this? Why? Is it my new Emo hair?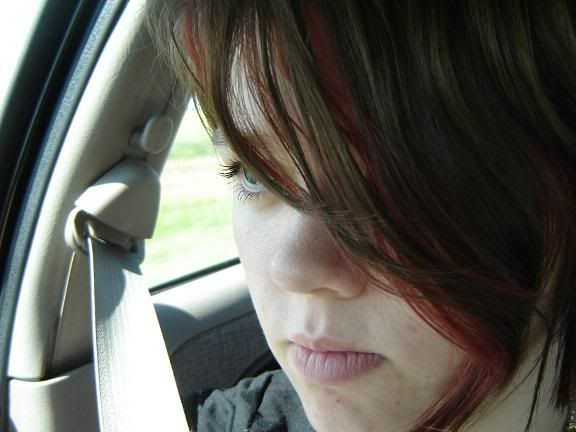 Do I look like someone who needs parenting advice? Seriously, my daughter is 28 months. I've survived this far. I think I know what I'm doing in general. Sure, ask me when she's a teenager and I may have a different answer for you, but for now, I'm good. If I want advice (which I don't), I'll ask my mom or grandma. I'm not going to ask Suzy Random that I've never met.
Sheesh.