Elodie and I have survived our first week with her at home full time. That was something that terrified me and made me so excited at the same time. The first day, I nearly cried when she woke up at 7:15. I generally don't get up until 8:30. Sometimes later.
All week, though, I've been waking up at 7:30 or earlier, and Elodie and I have started to fall into a routine. We wake up, eat some breaky in our PJs, she watches her Toopy & Binoo show while I work (or procrastinate). We play a bit, she has a nap at 11:00, I have a nap at 11:00. When we wake up at about 1:00, we have a bath, we have some lunch and then do our craft or play Playdough.
After playing, we walk to the park and play some more. After that, we generally make our way (walking) to Robbie's work to inform him of our trip to the library, please meet us there after work, and then we go to the library so Mommy can read and Elodie can play.
It's a really good schedule, and she's not so dependent anymore. If anything, she's so independent that it's scary. But I believe I have a new-found love of motherhood. Today, we cuddled on the couch while she watched Monsters, Inc. Okay, I watched it, too. Then a few mornings ago, we hid from the tickle monster under the covers. She's so cute, whispering and giggling.
Each afternoon, when we have our bath, I wash her hair and condition it. She thinks her hair feels so nice afterward and runs her hands through it. While I dry off, she giggles and pretends she's a mermaid in the tub. We read books and lounge. She informed me that she was going to knit me a hat (while furiously clicking some circs together). She sits at her chair on the kitchen table and fishes with circulars.
She watches me knit a shawl. She holds the yarn as I knit. She holds the fibre as I spin.
The baby that she was has vanished. She's a witty, funny, smart, beautiful little girl, and she has amazed me every day this week. I'm so excited for the next months. I'm loving this.
Don't get me wrong, I love my personal time. But I have a loving husband who understands that need, and I get at least a few hours to myself each night. At the beginning of the week, I was dreading being at home and being responsible ALL BY MYSELF for Elodie ALL DAY.
Now? I can't wait for next week to start.
On to the knitting/spinning. I can't show you my knitting right now because I don't have any pictures of it. Actually, I can't really show you my spinning either (I have two sock yarns on the go and two lace weights) because I don't have pictures of those either. I do, however, have pictures of fibre!!!
I took some of the shetland fleece that
Terra
and I got and brought it up to spinable form. Here are the original locks (pardon the poor lighting. I washed at 1:00 in the morning.
And the combed fibre (I used a dog rake and a fork...).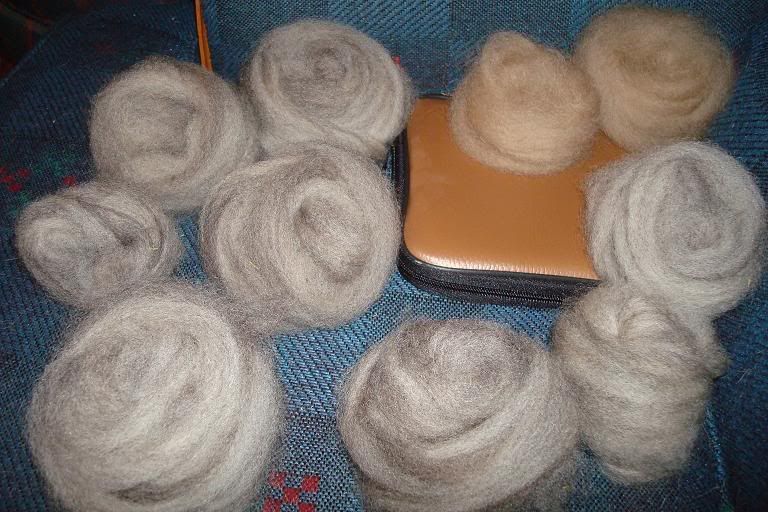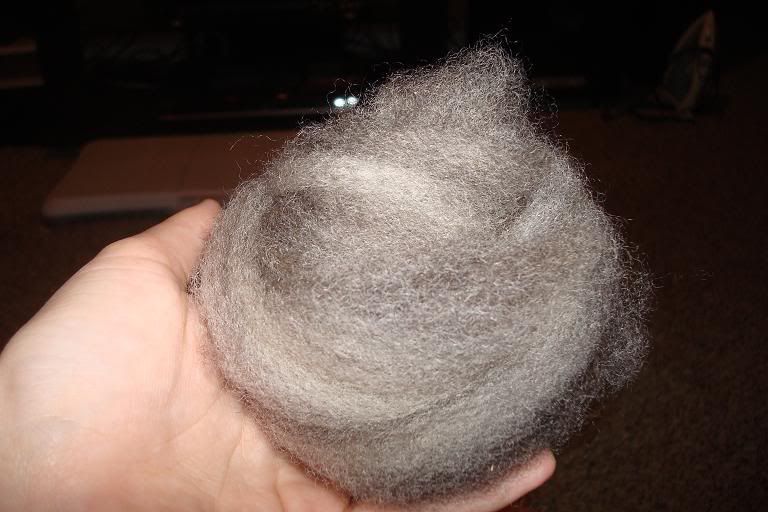 I'm spinning it for a shawl, Mystery Shawl 4. Super excited! The first clue came out today, but I'm going to start this one later. I've got to finish my sock yarns!!