We're officially in our new house. The unpacking is...going. I'm back at work, so things are slightly hectic. I've accepted at least 12 hours of work to be done over the weekend, so that should be interesting. If I do four hours a day, things will be okay (I hope).
I've actually been spinning and knitting some, although I'm not sure where our camera is right now, so I can't show you any pictures. Here's the last thing I spun for the Tour de Fleece before my world came crumbling down and moving kicked into overdrive.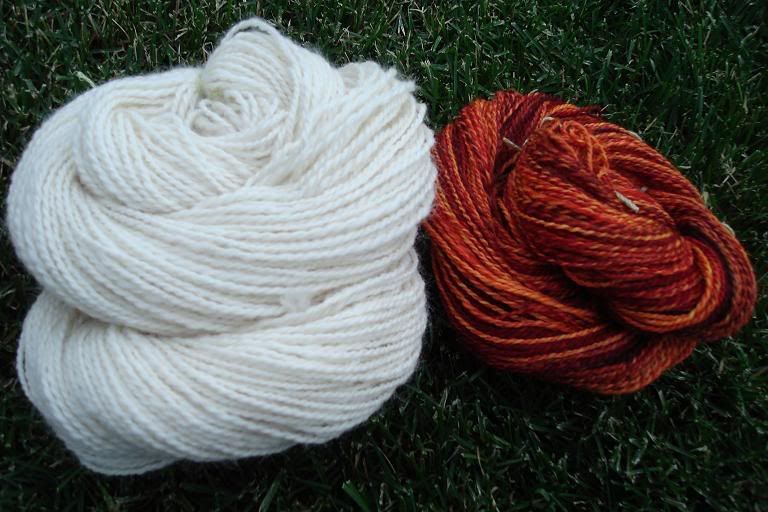 It's destined to be mittens. I do quite like it.
So far, on the needles, I have:
1) Clapotis -- I just spun the last of the yarn needed for it!!!
2) Luna Moth Shawl
3) Baby Blanket
4) Mittens
5) Entrelac Scarf for Rhapsody
6) Socks
7) Elodie's scarf
So much for my one-project-at-a-time rule.
Tomorrow, Terra and I are going to see some sheepies and buy some fleeces. I'm so SO excited! It'll be a well-needed break. As for today, my daughter and my husband are in the (hopefully) capable hands of my baby brother who is taking them up in an airplane! How this kid got his commercial license, I don't know, because he can hardly drive a car. However, I've been told he's good at flying, and he even has a job doing it for a living, so I guess I can't be too worried (I'll just eat my nails to the quick until they get back on the ground).
I had a minor freakout last night as I pictured my life without them. It was so horrible that I actually had to go lay down in Elodie's room with her and sob quietly into her hair. I don't know what it is about being a mother that completely changes your emotions, but I swear, it's like my worrisome side has kicking into overdrive. I have a huge fear of flying, and so I think I must have projected that onto them. I don't want to think about what would happen if I was suddenly all by myself.
On that depressing note, I'm going to go spin a bit and watch TLC! We have the high channels for a whole month for free! I'm super excited.