Um. Want to see what I woke up to this morning?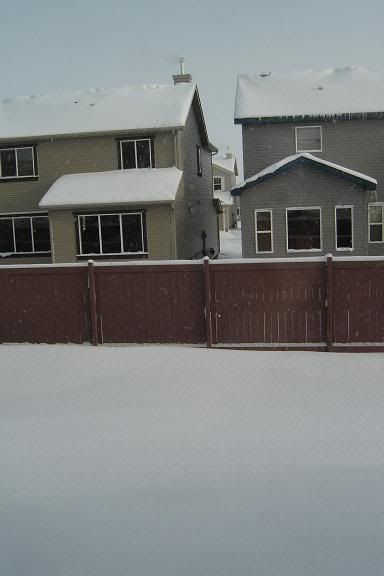 Nice, eh? In the last 3 days (since April began), Calgary has gotten more snow than
all
of
last
April. In fact, we've gotten 10 TIMES the amount of snow. Poor Apollo gets lost when he steps outside now. At least, that's what Robbie tells me. There's no way I'm stepping out.
I took the opportunity to work on my current obsession: A pretty lace shawl for Robbie's Nan White for her 85th birthday. I think I'm safe posting pictures, since I highly doubt she reads my blog (or knows what a blog is ;) ). I held it up to the window to accurately show off the stitch detail and got Robbie to snap a picture for me. My plan to amalgamate him into my ... hobby (obsession, nutso-job, etc) is going well.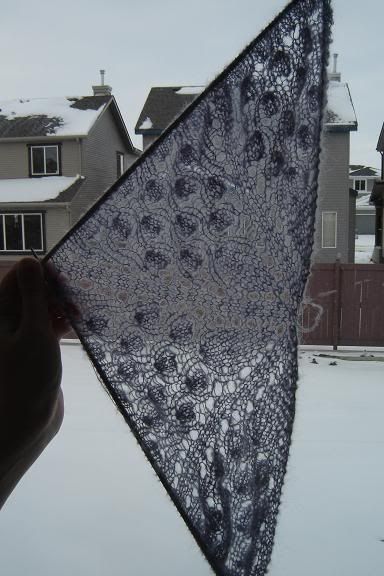 The colour isn't exactly bang on in that picture. It's made from one of my recycled yarn yummies.
THIS ONE to be exact: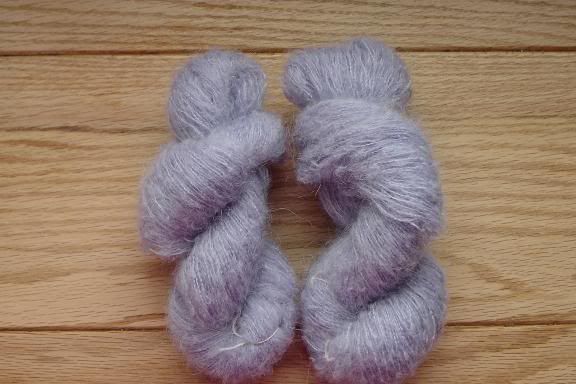 That's much closer to the actual colour. I hope she likes it.
The other projects have been put on hold momentarily (I SWEAR). I will finish one eventually. The baby blankie is on its 3rd skein and is looking very handsome indeed. I will get a picture up soon as I can.
In other news, I actually had a shower before 2:00 pm today, which was nice. Elodie is good. She's growing up so quickly. No words yet, but I don't doubt that they are soon to come. Wedding plans are pretty much done. We are registering and picking tuxes this weekend and may be meeting up with Torie and Alaina who are also getting hitched this summer.
And finally, I'd like to shout it out to Ellabella from both WB
and
Craftster. We just found out that we frequent the same boards today :)
Happy Easter, everybody!