I've got a cup of tea, a bowl of popcorn and my pictures all ready to go. Here comes the update! This will NOT be chronological, but WILL have pictures :)
1. I caved and joined the "hip" crowd on Facebook.com. I had originally told myself that it wouldn't happen, but...all the requests for me to join made me feel special and I did. *sigh*
2. Easter was good. Carsten and his "friend" Marie came out the night before and we all watched a movie after dying some eggies.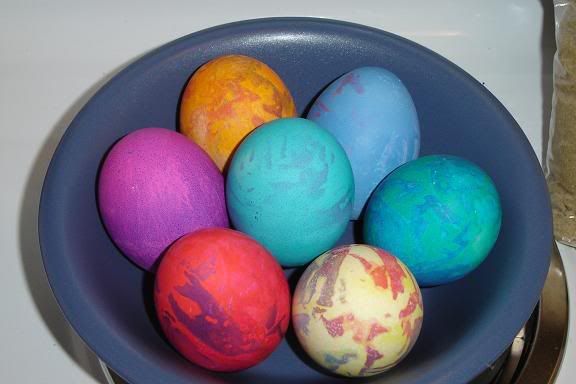 Robbie had never dyed eggs before (what the juice?!) so I took his eggy v-card!! HAHAHA! I think they turned out pretty cool.
The next day, I prepared to turn this:
into a scruptious meal for 7 (8 if you include Elodie). I forgot to get an after picture, of course, but it turned out pretty good, considering I'd never cooked a ham before. We had green beans, baby herb and garlic potatoes, glazed ham with pineapple and cherries, orange candy yams, and lindt chocolate for dessert. The beans could have used a bit longer to cook and the yams were chunky (totally Robbie's fault), but everything else was good. Out of Gary, Darlene, Mom, Carsten, Marie, Robbie, Elodie and myself, nobody got sick, so I consider that a bonus.
3. I started working on the baby blankie again.
It's getting pretty darn long. I'm really loving the fabric, even though it was 6 skeins for 3 dollars at Walmart and absolutely NONE of it is a natural fibre. It's still pretty and soft.
4. I'm starting a new job. I'd applied at a buttload of places, but had really wanted this one, a competitive sales position based out of Calgary. It's going to involve a lot of travelling (staying overnight 3 days/week), but there is the potential to make an amazing amount of money and maybe pay off some of our debts. Elodie will be in capable hands with her Daddy. My friend Amber is going to watch her during the day.
5. My daughter is freaking cute.
It's going to be really tough to leave her during the week, but maybe this way, I can afford to give her the life I want for her.
I'm all emotional now, so I'm signing off. Later.