Ok. I apologize. It's been a rough couple of weeks. First, I like money, so I've been working 8-10 hours a day, trying to save a bit before xmas. Second, I overworked myself and ended up hurting my hands fairly significantly. I was having burning pain all in my wrists when I worked, and it was NOT good. I was rather concerned that it could be carpal tunnel, a dangerous thing for a transcriptionist. After sleeping with a wrist brace on for a few nights and taking the weekend off of typing, my wrists feel much better, although they're still not 100%.
Without further ado, I give you pictures!!!!
I promised you pictures of my wheel, an Ashford Traditional:
See the split in the wheel?? The one between the spokes? THAT is the damage.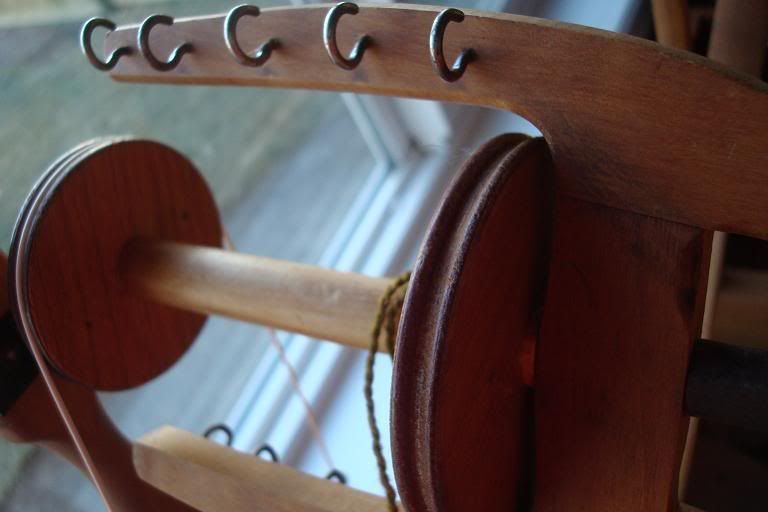 The wheel is great. It's well-broken in, and I've been pampering it with a nice, thorough oil every week. These pictures were taken before I oiled it, so it does look a bit nicer now. The wood has swelled since oiling it so often, and the split is almost gone. I've put some glue in there for good measure.
On to the yarns!!!!
I'm not too happy with this one. It's 100% Alpaca. Red laceweight alpaca plied with an undyed single. It's warm, but I just don't like the look. Very thin. Like, maybe sport weight?
Here comes the next. I call it Toby because it's for Toby's Xmas present. It's also 100% undyed alpaca. VERY warm.
OKAY! TOBY! HIDE YOUR EYES!!!!!!!!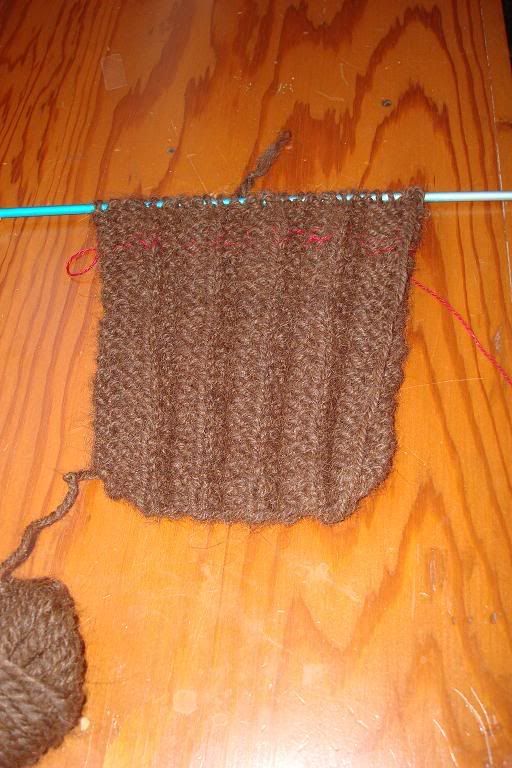 That's the scarf. Like??? It's got a bit of red thread knit into about three rows to give a nice, subtle stripe.
Finally, Robbie's yarn.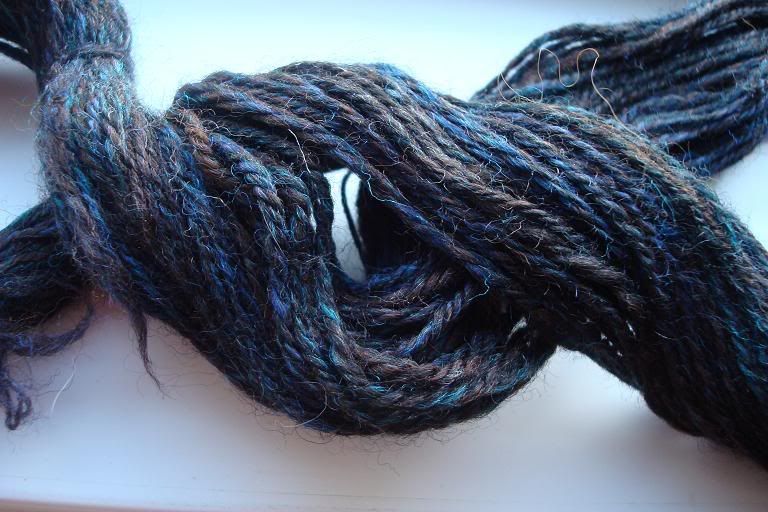 It's been navajo plied (which I love), and is self-striping. I REALLY love this yarn. Can you tell? I only took about a billion pictures. There is other yarns, but I'm honestly too lazy to take pictures of them. LOL! I've done a few more sock yarns, which turned out much better than my first attempt. If you haven't noticed, I've pretty much stopped posting knitting. This is NOT because I've stopped knitting. It's because they're Xmas presents, and I WILL NOT ruin the surprise!!!!
Anyway, there's about a pound of yarn in the mail, on its way to me. I'm excited. It's a test-order from a fleece company, and if it's nice, I'm going to be ordering A LOT more so that I can keep my store well-stocked.
Finally. Three words. ORGANIC SHEEP FLEECE. I went to Millarville this weekend with my mom and gramma, and met a sheep farmer. Turns out he has fleece. LOTS of fleece but never even thought about selling it to handspinners. Oh, I'm going to buy. Oh yes.