I took my first spinning class yesterday at
Make1Yarns
. It was taught by the lovely
Amy
, and it was WAY worth it. I've found my latest knitting-related obsession. We started on the drop spindle, which I adored. There was something so satisfying and earthy about watching the peice of wood spin around and around and around. It really felt natural, which was so surprising.


We spun up some dyed roving and then plied it. The plying was really tough for me, but after some practice (and adjustments to my own style), it got a lot easier. Anyway, it's my first hand-spun, and I really will treasure it forever and ever.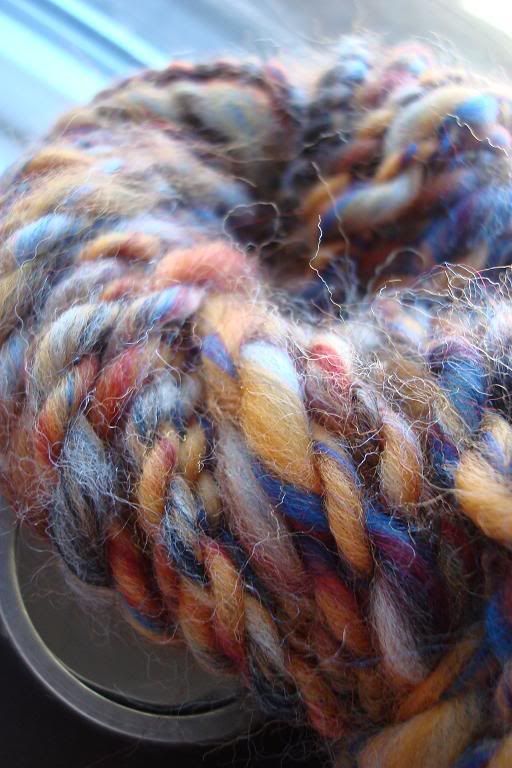 After working on the drop spindle for about two of our four hours, we moved on to the wheel. Now that was cool. It moved so quickly, but I can see why it's so relaxing. It really was a joy to do. I don't have any pictures of the spinning I did on the wheel because - well, it sucks. I haven't plied it yet, but when I do, I'm sure it will look somewhat better. It just doesn't look like yarn until it's plied.


Today, Robbie's dad came over to help him rake the backyard in preparation for laying sod. They also dug a hole in the corner for our weeping birch that will be planted sometime this week. While they were hard at work, I decided to run into Make1 and purchase a drop spindle and some roving.


See, I was supposed to get a spinning wheel as a wedding present from Robbie, but finances as they are and a trip to overseas looming over me, I just cannot justify spending that much money right now. I'll deal with the spindle, learn how wool works, then I'll (eventually) move on to my wheel.


So, got the spindle, Elodie was scared of Sandra (it was cute, though), and bought some roving that Elodie picked out at the store with numerous boughts of "Pretty! Pretty!" I took it home and spun up a bit of the white roving left over from the class. Plied it, washed it to set the twist, and now it's hanging over a chair in my kitchen to dry.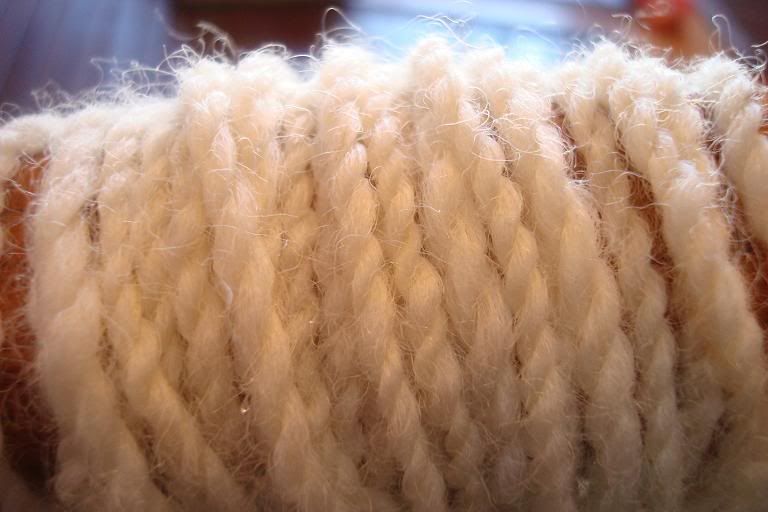 I then set aside my roving and spindle for later in the evening when I would perhaps start on (trying) to spin some sock yarn. It is superwash, after all. Doesn't it look pretty?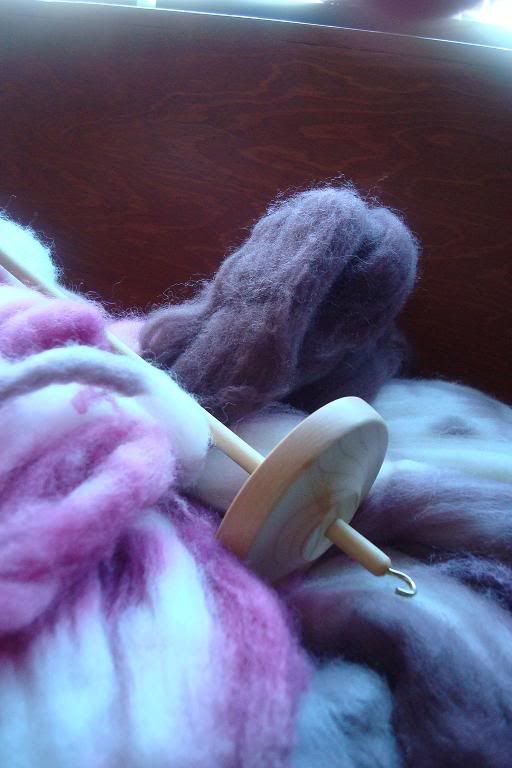 The colours are these lovely vibrant pinks and deep browns that tend to get dappled across the white of the wool. It's so pretty. I was going between this roving and a nice blue and green one, but I just can't say no to my daughter (when it comes to wool).


We went and had a lovely dinner at my parents' house to which Tyler, Tanner, Grandma, Grandpa, my brother and my brother's friend all attended. It was a full table, and it's a good thing my parents have extra stools. Mom did some great cooking. We had roast, beans, Yorkshire pudding, salad, gravy...potatoes. YUM YUM.


Gramma and Grampa gave us our wedding present - a beautiful oak hope chest that would easily fit Robbie (or I, if I was that flexible) inside, and much laughter and drink was shared by all except Elodie. We also watched a video of my brother's first sky-diving endeavor which he did on Saturday. I would have shit. my. pants.


After coming home, full, fat, and satisfied, Elodie to bed and just Robbie and I watching the office, I got down to business. The business at hand? Spinning up the start of my sock yarn, of course!!! By the time I went to bed two hours later, I had a lot (in my terms) of yarn on my spindle, but had hardly made a dent in my roving. I can see this spinning thing is going to take some dedication!




All in all, however, it was a great day.